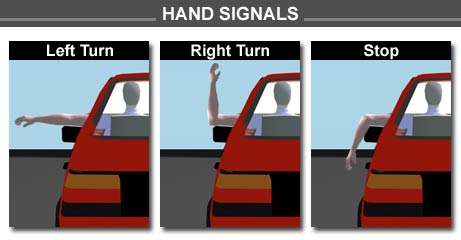 Drivers that don't use their turn signals infuriate me.
Back in Driver's Ed, we learned the old hand turn signals (pictured above) that nobody uses anymore either. We also learned about the nifty turn indicator stalk on the left hand side of the steering wheel that operates the tunr signal lights. Although this control stalk  has now been burdened with other functions such as headlights (another post topic: Low Beams MotherF#@*er, Do You Use Them?) it is still at root the means to signal other drivers the direction you intend to travel. Why is it so difficult to use? Push it down to go left. Push it up to go right. (Does everything need to be voice activated these days?)
No turn signal means you intend to go straight. So why are you sitting in the middle of the lane, stopped? There's no traffic light. There's no pedestrian. WTF? Oh, left hand turn, huh? Waiting for traffic to clear. Glad I am freakin' psychic. You're driving a  $100 K Porsche freakin' Cayenne. Was the turn indicator in the option package you friggin' didn't buy, a-hole?
Please,If you couldn't afford the turn signal kit on your ride, show the rest of the world some r-e-s-p-e-c-t and roll like an OG: use hand signals.
Next time: "Parallel Parking MotherF#@*er, Learn To Do It!"